GenLiving Floor Plans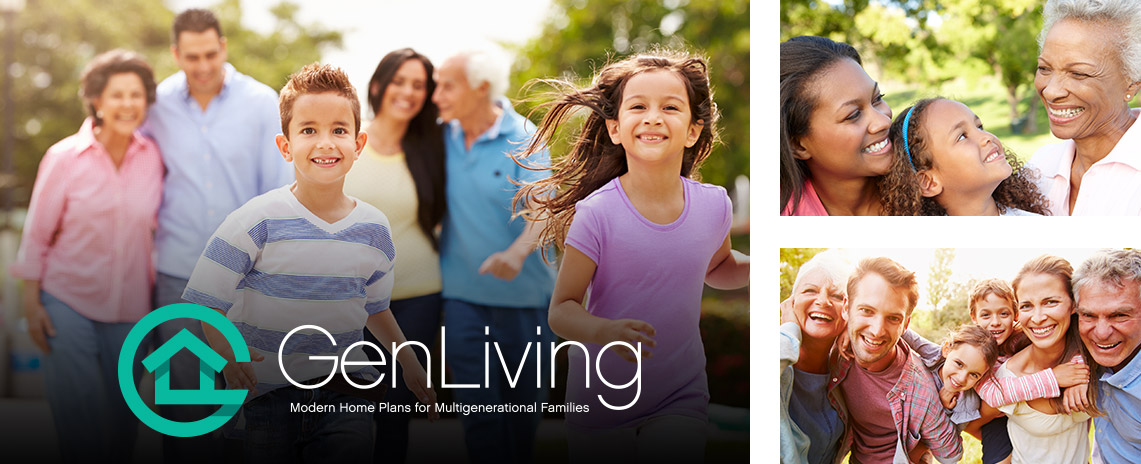 A New Kind Of Home For A New Kind of Living
More multigenerational families are living together under one roof. Bringing children, parents, grandparents and other extended family together in a single household is a rapidly growing trend that offers many advantages, but most homes aren't designed to support multigenerational living - that is, until now.
Benefits Of Multigenerational Living
Being Together
Young children gain constant exposure to the love and wisdom of more experienced family members while older family members may revel in the joyful atmosphere of youthful energy. Every individual member benefits and thrives when families spend time together and GenLiving homes are built to foster this powerful group dynamic.
Privacy
GenLiving floor plans are created to provide both open shared spaces for family and social gatherings and separate private spaces to for each member to "get away" for a while.
Managing Costs
Life is more expensive than it used to be and sharing one home with extended family can cut living costs tremendously. The cost of two households are essentially absorbed into one: Mortgage, utilities, and groceries.
Plans that evolve with you
From home office space, to a baby nursery, to a full living suite for in-laws, the smart spaces in GenLiving homes can be easily adapted for a variety of needs as families evolve.
Resale Value
Since 1980, the number of people living in multigenerational households in the US had more than doubled (from 28 million to 54+ million) and is expected to continue to increase. This steady trend offers a very positive outlook for the resale value of our GenLiving homes.
Visitors Welcome
Even if you do not have family living with you full time, the GenLiving suite is a great place to house out of town guests. The privacy allows them to have their own space while still getting to spend time with your family.
Special Spaces For Everyone
Special spaces within the home provide a harmonious balance between shared family time and the privacy that every individual needs and deserves.