Save big on your interest rate with Cates Building Builder Incentive!** For a limited time, save up to $100,629 over the life of your loan or up to $250 per month on your monthly mortgage payment or enjoy a rate as low as 3.99% in the first year of your loan when using a preferred lender. Choose from different finance offers based on what works for you.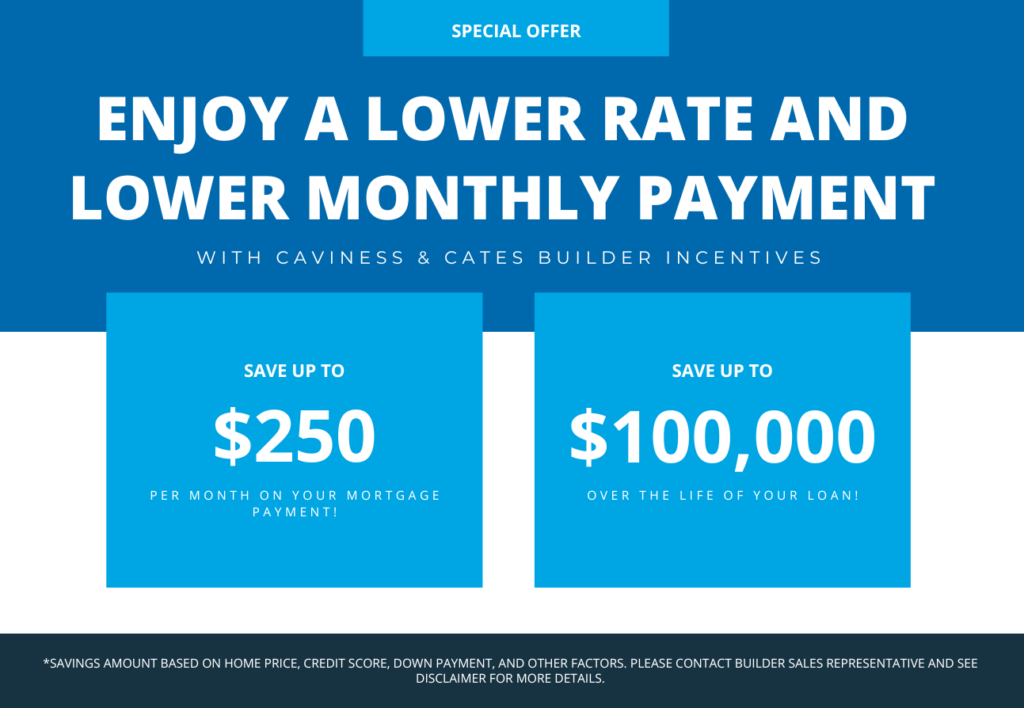 Option 1 –
Save up to $250 per month on your mortgage payment or up to $100,629 over the life of your loan!
Option 2 –
Secure a lower rate for the first 2 years! Buy down your rate to as low as 3.99% in year 1, 4.99% in year 2, and 5.99% in years 3 – 30 to save!
Option 3 – Use Builder Incentive towards builder design studio upgrades or closing costs.
Want more details? Leave us your information through this link or call/text us at 910-248-4561.
**Available on qualifying homes. Builder incentive amount may vary per home. Savings amount is based on the price of the home, borrower's credit score, the total down payment, and other factors. Additional requirements and restrictions may apply. This is not an offering where prohibited by law. Valid only with conventional loans. Images are for representational purposes only and actual product and offer may differ. See online or onsite sales consultants for details. This is not a commitment to lend. Borrower must meet qualification criteria. Must use builder preferred lender. Rates are based on a 30-year loan for a primary residence, a 20% down payment on a $450,000 loan amount, and a 6.365% annual percentage rate (APR); assumes a minimum 740 FICO credit score for borrower. Rates are effective as of 12/22/22 and are subject to change daily.